SSM events
Conversation event:  Greater Manchester Garden City – a viable alternative?
Thursday 2 March, 6.30pm, Methodist Central Hall, Oldham Street, Manchester.   Book via EventBrite
We'll be showing Tom Bliss's film that reviewed the Garden City concept and suggested applying it retrospectively to an existing city (Leeds).  We'll then discuss in relation to creating an alternative vision for the future of the Greater Manchester City Region.
We recently joined other critical voices in responding robustly to the GMCA's Greater Manchester Spatial Framework that set out a dystopic future of high rise flats and offices in the centre and housing estates and warehouses on the Green Belt, all justified by fantasist "growth" projections.  But what would an alternative look like?  Might it be feasible, for example, to transform the GM City Region into a kind of retrofitted Garden City? We begin that conversation.
Please book here: https://www.eventbrite.com/e/greater-manchester-garden-city-a-viable-alternative-tickets-32189825635
---
Advance notice of SSM's Annual General Meeting
Saturday 1st April,2017, 3.00pm (note later time – we'll be there from 2.30),
Bridge 5 Mill.  More info to follow.   for members – join here
---
Universal Basic Income: the centrepiece of a just society? with Karl Widerquist
Monday, 30 January, 2017
As part of the series on Universal Basic Income, The Social Change and Community Wellbeing research centre at Manchester Metro University and Steady State Manchester warmly invite you to another event exploring the Universal Basic Income
Come along on Monday 30th January 2017 1-3pm, Brooks Building, Manchester Metropolitan University, M15 6GX Room 3.31
Who will be talking?
Karl Widerquist, Associate Professor at Georgetown University-Qatar, is an internationally renowned scholar and activist, advocating and researching a Universal Basic Income. Karl holds doctorates in both economics and political theory and has worked on Basic Income as an economist, a political theorist, a public policy analyst, and organizer. In 1999, Karl cofounded, with others, the U.S. Basic Income Guarantee (USBIG) Network, and chaired the organization until 2008 and edited its email NewsFlash until 2014. Since 2008 Karl has been the co-chair of the Basic Income Earth Network (BIEN), which draws together people interested in and working towards a Universal Basic Income from around the world.
Karl 's writing on Basic Income includes several articles re-examining the results of the Negative Income Tax experiments conducted in the United States and Canada in the 1970's. He and Michael Howard co-edited two books on Alaska's Permanent Fund Dividend, addressing it as a small model of a Basic Income. Karl has also co- edited a compendium of writing about Basic Income (Basic Income: An anthology o contemporary research. Wiley Blackwell, 21013.). His contributions to this volume are varied and include commentaries on freedom, reciprocity, feminism, and the negative tax experiments.
As we see social justice slipping down the public agenda, who better to discuss with us 'Basic Income: the centrepiece of a just society'. So come along and hear Karl and discuss the implications of his talk for a Universal Basic Income in the North West, the UK and elsewhere..
Why should I come?
If you are interested in the idea of a Universal Basic Income, or would just like to know more about it, this would be your opportunity to hear from an international mover and shaker. We hope that from the event you will:
Have become more aware of the possibilities of UBI
Have considered some of the practical challenges of implication in the UK and in particular the North West
Will have got to know some other people who are also interested in UBI
Is there something I can read beforehand?
If you would like to read up about UBI here is blog we wrote earlier in the year raising a number of questions of implementation in the North West: https://steadystatemanchester.net/tag/universal-basic-income-ubi/ and follow the links from here to find a report of our UBI learn-in on what UBI in practice might look likehttps://steadystatemanchester.net/2016/09/19/lots-of-interest-in-universal-basic-income-ubi-but-perhaps-not-its-time-yet/.
For quite an easy introduction to UBI see https://www.thersa.org/action-and-research/rsa-projects/public-services-and-communities-folder/basic-income/. (although please note there are other versions of how it might look in practice)
Are there any other events planned?
World Basic Income is holding a conference in Manchester on February 4th 2017 to launch a new movement for global justice and poverty eradication.– See www.worldbasicincome.org.uk for information about this inspiring group. Sessions will include the following topics:
The context – inequality, poverty, cash transfers and basic income
Practicalities – funding (dividends, royalties and taxes), distribution (transferring cash, tech as an enabler), ownership (democracy and governance)
Building a movement – mobilising grassroots demand and influencing in high places; pilots, experience and evidence
Details of the event are available at:
https://www.eventbrite.com/e/world-basic-income-first-annual-conference-tickets-29640483484
Fair Living Festival – the Social Change and Community Wellbeing research group at MMU is holding a lively day celebrating different aspects of Fair Living on February 18th 2017. On this day we will be launching a report on the psychological impact of a universal basic income by Psychologists Against Austerity https://psychagainstausterity.wordpress.com/ Watch out for the Eventbrite links for this.
Other events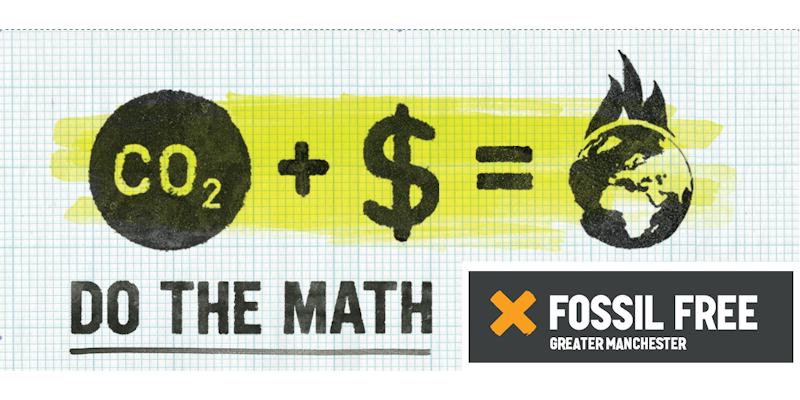 Please book via this eventbrite link.
Join Fossil Free Greater Manchester for a free film screening of the acclaimed environmental documentary Do The Math.
Tue 7 February 2017:  19:00 – 21:00 at
Black Dog Ballroom
Church Street
Manchester
M4 1PW
The film, produced by climate campaigners 350.org, highlights the impact the growing fossil fuel divestment movement is having in tackling climate change.
Do The Math chronicles "America's leading environmentalist" Bill McKibben in a David-vs-Goliath battle to fight the fossil fuel industry and change the terrifying math of the climate crisis. Bill McKibben is going after Big Oil, Big Coal, and Big Gas directly – energizing a movement like the ones that overturned the great immoral institutions of the past century – such as Apartheid in South Africa.
Putting his body on the line to stop the Keystone XL Pipeline and leading universities and institutions to divest in the corporations destroying our livelihoods, McKibben is uniting the growing global majority that view the climate crisis as the most important moral issue of the day. You can view the trailer here- https://www.youtube.com/watch?v=-zfinOCgRQ0.
The film lasts 42 minutes and will be followed by a short discussion and Q&A with local fossil fuel divestment campaigners from Fossil Free Greater Manchester.