Steady State Manchester projects include undertaking inter-disciplinary research, writing and producing publications, communicating through informative blog posts, representing Steady State Manchester through membership of groups, networks and forums across Greater Manchester, holding events and workshops, making presentations, lobbying and advocating around steady state, the viable economy and other relevant themes/issues.
SSM events Other events of interest
---
SSM events
Annual General Meeting.
Friends Meeting House, Mount St, Manchester. Thursday 2nd May, 6.30-8.00 pm.
With speaker, Jake Rigby from Manchester Extinction Rebellion.
And we've the usual formal business:
Election of officers: Chair, Secretary Treasurer. And to elect/co-opt additional members of the collective.
To receive the reports of Chair, Secretary and Treasurer (giving you information about what SSM has been doing for the past year, and our finances).
To discuss priorities for the coming year and any other business.
All welcome, but you must be a paid up member to participate in the formal business of . We have a pay what you like/can subscription model – find out more.
______________________________
The following event has now taken place but you can access the annotated slides here (large file): Against the Tide: Advocating Degrowth and a Viable Economy in Manchester.

On: Tuesday, 26 March (4:00 till 5:30pm)
In: Room LT3, Geoffrey Manton Building (Humanities), Manchester Metropolitan University, M15 6BH
An implausible idea underpins mainstream economic thought and policy, that the economy can continue to grow forever. It is implausible for straightforward physical and ecological reasons: the planet is finite, and so are its resources and the places where waste products can be sunk. Today we see this in the existential crisis of carbon dioxide pollution bringing the threat of uncontrollable climate change, among other eco-system dangers. Moreover, endless growth does not bring universal prosperity nor happiness. Criticism, however is easy. It is more difficult to figure out what the alternative will entail, and how to get it to happen.
In this free seminar we will explore the limits to growth, the drivers of growth and alternative approaches, at the macro-economic and local level, drawing on our own work with Steady State Manchester to explore and promote a post-growth, viable economy and society for the city-region.
Booking details:
https://www.eventbrite.com/e/seminar-advocating-degrowth-and-a-viable-economy-in-manchester-tickets-58648951593
---
SSM Reading Group. This is an open reading group but to attend and get the links to the reading material, you have to book via Event Brite. You need to book for each session. SSM members get early bird notice.
The Viable Economy – crowdsourcing the second edition. [event passed but watch this space for Part 2]
For a change, this session will look at some of our own work, our key conceptual pamphlet, The Viable Economy. Help us revise it.
The Viable Economy is our conceptual framework for the post growth society and economy in Greater Manchester. It was published in November 2014 and has been reprinted twice. Nearly 5 years later we should really review and revise it. Does the analysis still hold? What did we get right and what was wrong? What did we miss out?
This is an interactive session and participants are expected to have read the material. On registering we'll send you the short list of questions we'll be using to structure our discussion.
The Viable Economy is available HERE or you can get a printed copy for £2 incl postage from the address on this page.
Booking is essential – please book using this EventBrite link
If there are topics you'd like to see covered by future reading group sessions, then do let us have your suggestions.
AGM. SSM's Annual General Meeting will be held on Thursday 2 May. Details to follow. To fully participate you need to join us details here.
---
Other events of interest
A New Lucas Plan: an Idea Whose Time has Come?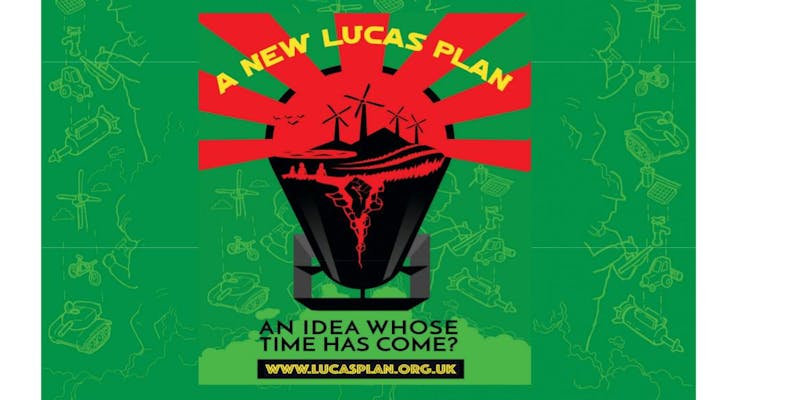 Steady State Manchester will facilitate a workshop at this event.
The Lucas Plan of the 1970s was a celebrated attempt by workers at the arms related company, Lucas Aerospace, to develop a plan for conversion of the company to the production of socially useful products. Facing the threat of unemployment caused by new technology and recession, the workers collected 150 ideas from the shop floor for alternative, socially useful products that could be produced using their skills and technology.
The idea for a 'New Lucas Plan' is to develop plans for a new and democratically controlled economy, based on the Lucas Aerospace workers' idea of socially useful production. The transition to a new sustainable and socially just economy will involve conversion of harmful industries in a way that must create socially useful livelihoods for workers. Rather than seeking to develop such a plan ourselves, through these events we want to engage with the thinking of activists in different social movements, in order to collectively develop our thinking. This is consistent with the Lucas Aerospace workers' bottom-up approach, and the events will aim to be as participatory as possible.
Full details and booking link: https://www.eventbrite.co.uk/e/a-new-lucas-plan-an-idea-whose-time-has-come-tickets-57184016934
________________________________________________________________